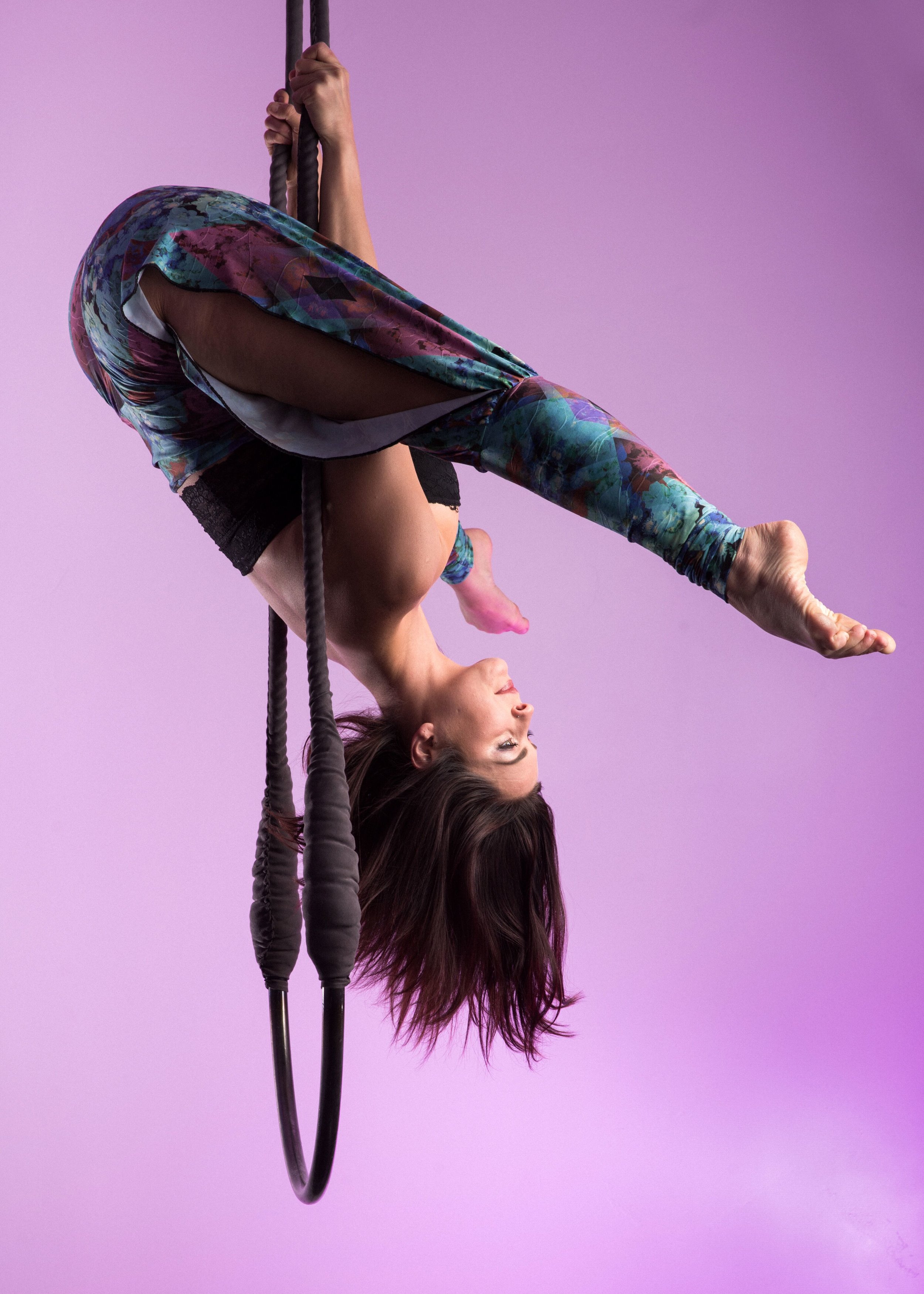 Expand your knowledge. Grow as an artist. Explore a new city.
PRICING
private training - $105/HR (minimum of 6 hours)*
*6 hours of training is typically divided up into 2-3 days.

Weekend & weekday options available.

Your training program will be fully customized to fit your training/performing goals. Traincations are suitable for all levels, from beginning to advanced!
semi-private training - $75/hr per person | (minimum of 6 hours)
food (if you are staying at my home) - $25 per person, per full day
Everything you need for breakfast, lunch, dinner & training snacks. I will cook all of your meals and make sure my fridge is stocked for you to meet your dietary needs!
Traincation pricing includes:
Single, round-trip pick-up/drop-off from SLC International Airport (SLC) or Ogden Regional Airport

Insured, private training (or semi-private if you are training with a friend)

Unlimited free studio time to train on your own. I have many circus toys to play on outside of our scheduled training time! Aerial Sling, Aerial Silks, Pole, Lyra, Lollipop Lyra, Aerial Diamond Chandelier, Teardrop Trapeze

All meals & training snacks (if you stay at my house & choose food option)

Welcome gift bag
Packages do not include: Additional food/alcohol/airfare/hotel expenses or other transportation/excursions.
Limited time offer: Purchase 10 hours of training & get 1 free flexibility session!
payments plans available
ADD-ONS
+ Professional Photo Shoot with todd collins +
Todd Collins is one of my favorite photographers and is exceptional to work with. He has captured essentially ALL of my best aerial dance photos. If you would like to work with Todd during your visit for a private photoshoot on location, please email me to arrange a session with him.
$175 for 1 hr. of shooting time

Unlimited apparatus/outfit changes (as time permits)

Coaching/posing assistance from Holly

At least 20 final edits delivered via Dropbox within 2-3 weeks of your session

www.toddcollinsphotography.com
IG: @toddcollinsphotos
+ professional body work/massage from my therapist! +
$75/hr
My massage therapist makes house calls! I highly recommend booking a massage with her during your visit. It would be the perfect way to end your training day!
I'm happy to provide other recommendations on things to do/see—just ask!
WELCOME HOME
my home
You are welcome to stay at my South Ogden home for no additional charge
(just pay for food).
Amenities:
Private bedroom w/ queen size bed

Separate private bathroom

6 foot jetted, heated bath tub for post training recovery

Private aerial dance studio & outdoor aerial truss (during spring/summer) on location

Two love-able kitty cats for cuddling & feline therapy
You will be responsible for your own transportation/excursions outside of our training time :) Uber is popular around Ogden.
hotel suggestions
If you would prefer to stay in a hotel, here is my list of recommendations that are nearby & close to historic 25th street. If you opt for a hotel you would need to coordinate your own transportation to my home studio (10-12 min. drive from most of these hotels listed).
Within walking distance of historic 25th Street, Ogden:
Hampton Inn & Suites - Downtown Ogden
TRAINING LOCATION & AVAILABILITY
TRAINCATIONS ARE CURRENTLY AVAILABLE year-round
Training will be completed inside my home studio space (15ft vertical feet, two aerial points). If weather permits, Spring through Fall, training can be held on my outdoor 20 ft. aerial truss. Best time to visit if you like sunshine, warm weather and outdoor hikes: April - September. Best time to visit if you like the cold and snowy weather: November - January. October is absolutely beautiful in Utah!
BOOK YOUR VISIT
All amounts are listed in $USD. Non-refundable $100 Deposit via Venmo or PayPal required to book your dates. Please contact me for other payment methods. Remaining balance due on first day of training.
Payment plans available
After you have booked your Traincation dates, please complete this pre-interview so that I can prepare for your visit!
MISC. INFO
ALTITUDE SICKNESS
Altitude sickness can occur within hours of arriving in an area with high altitude. It occurs due to lower oxygen levels at higher elevation. Some symptoms include: headache, nausea, trouble sleeping, fatigue, shortness of breath, trouble urinating, loss of appetite, confusion, overall not feeling well.
Ogden, UT located 4,300 feet above sea level. I wanted to share this information so that you can be informed of AS and be prepared in case you are coming from an area that is at or below sea level.
AS PREVENTION
Avoid Alcohol

Drink A LOT of water

Eat foods high in potassium and carbohydrates

Avoid sleeping pills because they can make AS symptoms worse

Essential Oils that can help treat mild AS symptoms: Peppermint, Eucalyptus, Lavender